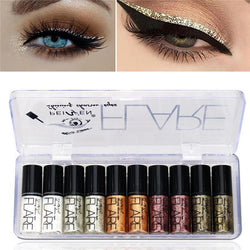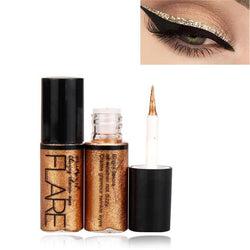 Waterproof shine eyeliner
Special effects: vivid and smooth lines, easy to color, masonry flash, waterproof and anti-sweat quick-drying formula, so you don't have to
Worry about blinking and sweating; add shine to your eyes for long-lasting and natural makeup.
Feature:

Portable and easy to use.
Blinking eyeliner. Can be used as an eyeliner pen and eye shadow pen;
High quality ingredients with a silky shine color, can last for all day long!
Rich and leading-the-trend colors.
This Eye Shadow has all the colors you need to have sophisticated or sharp looks for day and night, for different occasions, casual, party, wedding!
These adjustable drops can be used to create a buildable highlight or sunkissed shade.
The more you use, the more brightness or bronze you'll get, so you can adjust your glow.
Perfect for both professional Salon or personal use!